What you need to make the Ministry Fair successful (Read Below)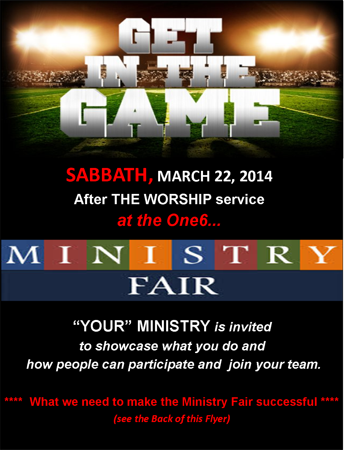 RSVP to [Pastor M. Henry], [909-754-4347], by [5:00pm] on [SUNDAY], [MARCH 16, 2014].

VOLUNTEERS to staff your booth who can explain your ministry and tell people how being involved with your ministry has impacted their own life.
IDEA: Booth staff could dress in keeping with the theme, "Get in the Game!"
Volunteers to SET UP and TEAR DOWN your booth (set up is on [FRIDAY], [MARCH 21, 2014], any time from [12:00pm] to [6:00pm]. ****NOT DURING THE SABBATH HOURS***

DECORATIONS that tie in w/ the theme "Get in the Game!" that will attract people to visit your booth.

A POSTER or PHOTOS or VIDEOS describing your ministry

(photos of people in action are great).

A HANDOUT to be given people to explain your ministry (Some resources will be provided).

Schedule an ORIENTATION MEETING within two weeks after the Ministry Fair.

A volunteer to SEND THANK YOU LETTERS or E-MAILS to everyone who signed up for your ministry, reminding them of your orientation date.

Volunteers to CONTACT those who are unable to attend the orientation, to integrate them into your ministry.